A few dozen of the top internet marketers got together for 3 days at this exclusive event in Del Mar, just north of San Diego. Great food, plenty of drinks, and even better sharing of Internet marketing secrets.  Invite only, since it's not a conference, but a place where already successful people get together to network and share. The other thing is that we all had to sign NDA's, so I'm not able to spell out exactly what I learned here.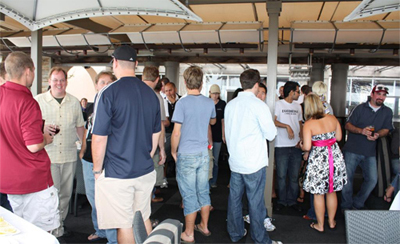 But what I will tell you is that the $3k entry fee is a fraction of the value of what I received in terms of knowledge and relationships. It's the best learning that I've had in the last 3 years, with no disrespect to Shawn Collins, Danny Sullivan, or Barry Smyth– largely because of the close networking
I also got to wrestle with Robert Drysdale, 6 time world champion in Brazilian Jiu Jitsu.  Yes, he kicked my ass– see pictures below as proof.  Looking forward to spending more time with Robert and Sean at their Las Vegas Jiu Jitsu facility at PubCon in a couple months.